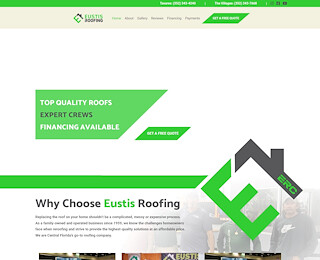 Eustis Roofing is a leading Lady Lake roofing company" href="https://eustisroofing.com/roofing-company-service-areas/roofing-company-in-lady-lake-fl/">Lady Lake roofing company with experienced roofers and hundreds of positive reviews from past customers. We are the community's favorite roofers, and we hold a reputation for offering the best roofing repair services at affordable prices. Here are some tips to help you choose the right roofing company:
Experience
It is wise to opt for the roofers with the most years of experience, as they will know the best way to approach different types of roofing problems. With 60 years of experience, we are the best roofers in Lady Lake with affordable roofing solutions that withstand the test of time.
Licensing and Insurance
Do not fall for the fly-by-night roofers that try to lure you with their low quotes. Ask to look at a roofing contractor's license and see if they are authorized to offer roofing solutions in your city or state. Also, inquire if the roofers have workers' compensation insurance for their employees and liability insurance for the protection of their clients. Make sure not to hire companies without these insurances to avoid financial liability in case their technicians face injuries while on the job.
Past work and reviews
When looking for roofing contractors in Lady Lake, ask to look at some of their past work. Ask for references from their most recent roofing projects to learn about their quality of services, timely deliveries, pricing strategy, and professionalism. Be sure to choose a contractor for roofing in Lady Lake, FL, that enjoys the highest rating on Google, Facebook, Yelp, and other online forums. As one of the pioneer roofers in Florida, we enjoy a 4.9-star rating from over 300 customers on Google, a 4.7-star rating on Angie's list, and a 4.9-star rating on Facebook.
Pricing
Get quotes from three or more roofing contractors near Lady Lake and compare their prices. Choose the contractor that offers the best value for a reasonable price. Also, be sure to hire a contractor that offers a manufacturer's warranty on the roof they build. This way, you can receive the best value for the money you pay.
Agreements and contracts in writing
Hire a roofing contractor who is willing to offer you an adequately written proposal outlining the details of your transaction, such as the scope of work, cost of labor, the expected timeline, etc. Having a written contract in place protects you from breach of service.
Roofing crew members
Be sure to check the experience and skill level of the crew members that will work on your roofing project. To get the best roof installation or repair services within the quoted timeline, it is crucial to have our pros working on your project. We have been working with the same nine teams of experts for decades with outstanding results.
Speak to one of us at Eustis Roofing today to schedule a free roofing inspection. You can also get a free quotation from our Lady Lake roofing company by reaching us at (352) 343-4240 or email us.