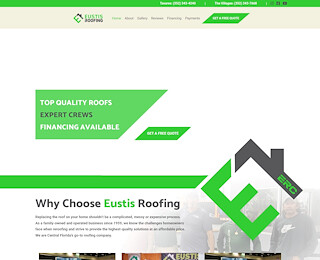 The roof is an essential part of your home, and without a roof, your home will be incomplete. But sometimes homeowners in Leesburg, FL, prefer to hire a handyman for minor roof repairs. Whether you're a homeowner planning to install a new roof or repair your current one, you must make sure you hire the best roofing contractor.
However, there are many roofing contractors in Leesburg, but not all can be classified as professional roofers. A professional roofing company specializes in roofing work; they are not contractors who are a jack-of-all-trades or a general contractor who source roofing work for the cheapest.
At Eustis Roofing, we stand behind all our work and have thousands of satisfied clients regarding roof repair and replacements. Call us today at (352) 343-4240 for your roofing inspection and estimate.
Professional Contractor vs. Handyman: What's the Difference?
Handymen are jacks-of-all-trades. They have different skills and can carry out a variety of home services. Most times, their services are cheaper than general contractors, making them a preferred choice for homeowners. On the other hand, professional contractors have more specialized experience; they have insurance to protect their customers. Moreover, they are licensed and can perform their job effectively, and most states have regulations on the size of jobs they can take.
Why It's Important to Hire a Roofing Contractor
A professional roofer knows the in and out of roofing because that's what they are certified and trained to do. Reputable roofing companies are usually equipped with the right materials and tools to get the job completed right the first time. They have more insight into specific warranties and can also provide helpful tips on maintaining your roof. 
Local-based and experienced roofers are up to date on building codes; they know how the weather in your area can affect your roof, and even work with your insurance firm if you need an insurance claim.
If you need high-quality roof repair and replacement, turn to certified and insured professionals at Eustis Roofing. We are roofers serving Leesburg and the surrounding area for years, and we guarantee high performance and durable roofing solutions. Roofing projects that we work on in Leesburg, FL, include the following:
Installation: Our Leesburg roofers" href="https://eustisroofing.com/roofing-company-service-areas/roofing-company-in-leesburg-fl/">Leesburg roofers can build a new layer for your roof and ensures proper installation to prevent future leaks and other roof damage.
Repair: Our roofing contractors will diagnose the root cause of a leaky or other problematic roof and amend it correctly.
Replacement: Our contractor may replace your old roof and lay a new one when it is right.
Inspection: We'll examine all parts of your roof to detect early signs of problems and fix any issues before becoming more serious.
Why Eustis Roofing?
We place quality work and customer satisfaction above everything else in our company. If you are working on roofing projects in Leesburg, you can rest assured that the team at Eustis Roofing will deliver exceptional work. Call us today at (352) 343-4240 for the best roofers in Leesburg.