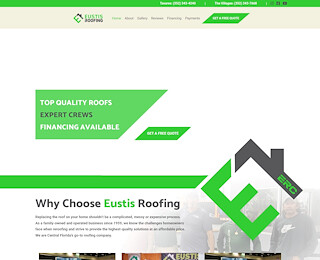 Eustis Roofing is a top-rated company for roof repair in Fruitland Park, specializing in repairs and replacements for metal, shingle, and flat roofs. Here are some signs that warn the need for roof repair:
Increasing energy bills
Is it extremely hot inside your house lately? The problem may be with your roof. Older roofs can fail to reflect and redirect some of that sunlight radiation away from your home, causing you to pay a higher energy bill. Getting a new roof with white shingles and a higher solar reflectance rate can reflect the heat more effectively, keeping your home cooler. Alternatively, if it's too cold inside your house, it could be due to an issue in your roof insulation. As one of the affordable contractors for roofing in Fruitland Park, FL, we use foam insulation and other techniques to improve your old insulation and save you from an expensive roof replacement.
Damaged or missing shingles
Cracked, missing, or damaged shingles are obvious signs of a damaged roof, potentially hiding other issues as well. If you observe missing or damaged shingles on your roof after a heavy storm or wind or rain, you should call one of our professional roofing contractors in Fruitland Park to inspect your roof. Also, shingles with curled edges or asphalt shingles that shed granules are causes for concern, in which case you need to inspect the extent of the damage and fix the issue fast.
Damaged chimney or flashing
If the chimney in your house has cracks or if you notice broken bricks, there is a good chance for it to collapse inward onto your roof and lead to serious damages. This can be dangerous for the residents, as well as the overall structure of your property. Furthermore, if you find the flashing in a cracked or damaged condition, it can cause moisture problems and pave the way for more significant damages over time. Hire our top roofing contractors near Fruitland Park at the earliest, and we will handle the situation immediately to prevent the situation from escalating.
Growth of mold and mildew
If you spot black or dark green colored stains on your roof or attic, it is a sign of moisture or wood rot or leak in your roof, and you must hire the best roofers in Fruitland Park to address it. Leaving mold untreated can cause it to spread to other areas of your roof, causing widespread damage with time.
Leaks and moisture issues on your roof
A roof leak is a common problem that most homeowners face, and in most cases, you can manage it with roofing repair services. However, if the leak is widespread, and if you have leaks in several parts of your roof, you may have to replace the entire roof.
We offer the best roof repair in Fruitland Park at affordable prices and exceptional customer service. Contact Eustis Roofing today at (352) 343-4240 or write to us for more details and we'll come in for free inspection and quotation.
Roof Repair Fruitland Park