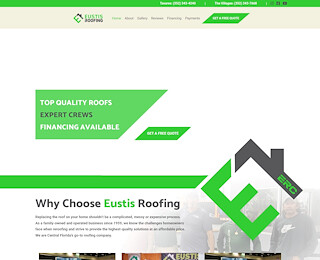 Finding the best roofers in Leesburg is essential if you need immediate roof repairs or even expert roof inspection and report. At Eustis Roofing, we offer top-of-the-line roofing in Leesburg, FL, at affordable prices, and we cover all situations you can think of.
How to find the finest roofer
Finding the best roofer can be a tricky task if you don't know what qualities to look for. And knowing what to prioritize can make the difference between outstanding jobs and poor ones that may cause more harm than good long-term. As some of the best roofing contractors in Leesburg, we know what makes the difference between top-tier contractors and low-tier ones.
Here we include:
Experience – The more experienced your roofing contractors are, the more reliable. We hold 60 years of experience in the field, with over 60k happy customers over time. This fact alone makes us some of the most reputed roofing experts in the business.
Competence and quality of work – Your preferred contractor should deliver an impeccable quality of work, which includes using top equipment, cleaning the worksite, and protecting your assets. Experience alone isn't enough because it doesn't guarantee a solid work ethic or customer satisfaction.
No subcontracting – There are clear advantages between a company that uses its own workers and one that relies on subcontractors. We're using the same nine crews of professionals, each with decades of experience in the business. This means that they will deliver the same standards, the same quality of work, and great customer satisfaction every time.
Affordable financial options – As the greatest roofing contractors near Leesburg, we offer extensive financing options, according to your preferences and capabilities. We've teamed up with some of the top vendors in the business to provide you with much-needed financial flexibility.
Custom roof installation – The best contractors are those willing and capable of providing custom services. Aside from doing that, we also use the best materials to extend your roof's lifetime and improve the overall looks of your home.
The best roofing repair services
Your home's roof is equally as important as its foundation. If any of these receive damages or break beyond repair, they will affect the structural integrity of the building as a whole. To prevent that, you must hire the best roofers in Leesburg for regular inspections and reports. It's the only way to detect minor issues early before they can expand and cause more serious problems over the years.
If you're already past prevention and need immediate repairs, we can provide you with immediate assistance and support. Our team of professionals will assess the situation, present the report, and recommend specific approaches for the best results.
At Eustis Roofing, nothing matters more to us than customer satisfaction. This means that we only operate at the highest standards in the business, using top-of-the-line equipment, top materials, and impeccable work ethics. If you require the services of the most experienced roofers in Leesburg, contact us today at (352) 343-4240 or send us an email! Our customer support will do the rest.
Roofers Leesburg