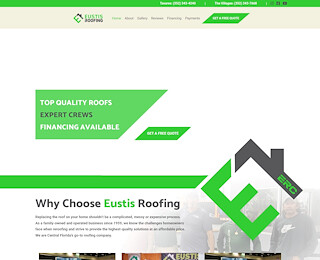 For the best and most reliable roofing services, we invite you to contact us at Eustis Roofing today! Our roofers in Umatilla have decades of experience to vouch for their expertise and professionalism. Whether you need roof repairs, roof maintenance, or complete overhauls, we are ready for the task.
The best roof repair services
After 60 years of continuous activity in the roofing sector, we have served over 60,000 clients and performed numerous roof jobs at the highest standards. This means there is no situation that we can't handle, no matter how difficult or complex. Having all the knowledge and expertise on our side, we deliver the finest roof repair services and perks, which include:
Top-tier materials – Whether it's shingles, metal, flat roofs, etc., we're always using the ideal materials for the job. The purpose is to increase the roof's durability in the face of elements, as well as boost its lifespan considerably. With proper maintenance and regular inspections, our metal roofs can reach and even exceed a 70-year lifespan.
Impeccable work safety and protection – Our roofers in Umatilla, FL, will not only deliver top-notch services but protect your property during the work as well. We use a high-end debris-collecting system to protect the lawn and vegetation throughout the job.
Affordable financing options – Our roofing contractors in Umatilla offer advantageous financing options via our preferred vendors. This allows you to benefit from our services even if you don't have the cash to work with.
Maintenance and regular inspections – Since our goal is to protect your roof long-term, we provide regular maintenance, inspections, and reports as necessary. In case of any unwanted findings, our roofing contractors near Umatilla will deliver the report and suggest adequate approaches for the best outcome.
Flexible financing for roof repairs
We are aware that not all clients can afford to pay a roofing job in full upon completion. This is even truer when considering more complex and expensive jobs that can drain your bank account fast. To avoid that, we offer affordable roofing repair services, along with a flexible and advantageous financing plan. As the best roofers in Umatilla, FL, we have made connections with top vendors in the business to offer deals you can't refuse.
There is no down-payment involved in the process. You only need a $500 deposit (for roof replacements, for instance), which will come out of your financing plan only once the job is complete, and you are satisfied. This way, you don't risk any upfront money, and we get to focus on delivering the utmost quality as fast as possible.
Furthermore, you can also contract our services long-term, to receive regular inspections, maintenance jobs, and comprehensive reports. We are working with the same nine crews of roofers in Umatilla for decades with outstanding results. At Eustis Roofing, we are a family-operated business with one goal in mind – complete and lasting customer satisfaction. You can call us at (352) 343-4240 or send us an email for additional info on our roofing services. We are ready to take your case and get to work asap.
Roofers Umatilla