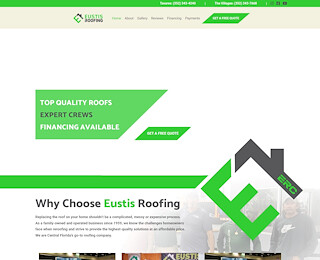 There is still one Umatilla roofing company" href="https://eustisroofing.com/roofing-company-service-areas/roofing-company-in-umatilla-fl/">Umatilla roofing company that believes in doing an honest day's work for an honest day's pay. Eustis Roofing can meet all of your roofing needs with affordable repairs, upgrades, and roof replacement services- even emergency response to major roof problems. Call us for a free roof inspection when looking for a reliable company that provides first-rate roofing in Umatilla, FL; we inspect your roof from ground-level and from a ladder to look for issues that require immediate attention.
5 Things Eustis Roofing Guarantees Our Customers
1. Our roofing contractors in Umatilla will respond to your needs in a timely manner, replying to your phone call quickly and being on-time when we say we'll arrive at a certain time. If you're fed up with service providers who say they'll call and then leave you waiting by the phone or by your door, take heart that there is a Umatilla roofing company whose word is their bond. Call us today if you suspect damage to your roof after a storm has passed through; we provide a wide range of roofing services to protect your home or commercial building.
2. We'll never offer a bandaid solution to a roofing problem. If we're unable to provide a lasting repair due to the extent of damage or age of your roofing system, we'll recommend a roof replacement. The vast majority of calls we receive are easily resolved with a roof repair; we promise to respect your budget and look for the most affordable way to restore your roof.
3. Eustis Roofing guarantees the use of high-quality materials to repair your roof; we work on all roof types, including traditional shingle & asphalt roofing systems, metal roofs, flat roofs, and manufactured home roofs, employing knowledgeable roofers who have access to the right equipment and supplies. We don't believe in cutting corners when it comes to your roof, and we don't believe you should settle for anything less than the very best.
4. We provide our customers with access to some of the best roofing contractors near Umatilla, so you'll have peace of mind when you have to hire a roofer to carry out a repair, big or small. If you need advice over the phone or wish to schedule a complimentary roof inspection, call our team at (352) 343-4240.
5. At Eustis Roofing, we guarantee quality workmanship you can count on to last through the years. When you call our team for roofing repair services, know for certain you've made the right call. We only hire the best roofers in Umatilla to represent our company's name and reputation.
Browse our complete list of services on our website or contact us via phone or email. Financing is available through our partner, GreenSky if you need home improvement funding. We are proud to work with GreenSky because they are willing to finance all credit types to ensure all of our customers have access to our services, even if they haven't had time to save for a roof repair.